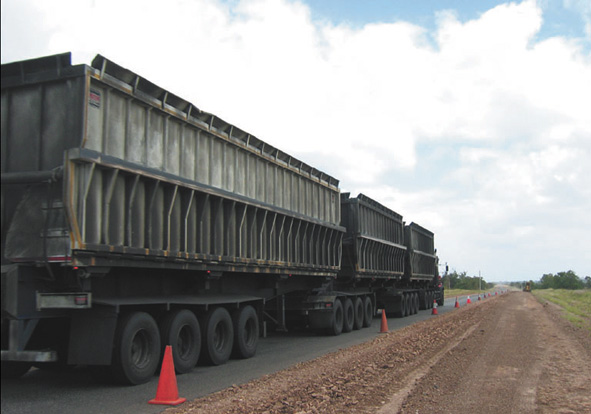 Picture a Central Queensland rural road with heavy traffic volume, and hundreds of light vehicles sharing this road every day with a fleet of coal haulers. Not your usual triples, but 300 tonners with 62 wheels and 16 axles.
It's a narrow strip of bitumen; no room for passing without wheels dropping off the side. Picture the shoulders of this road, 13.6 kilometres long, after 800mm of rain in only nine weeks.
Local roads cop plenty of punishment on the shoulders and often, in these days of increasingly tighter budgets, shoulders are constructed with low grade materials to keep down maintenance and construction costs.
Back in Central Queensland the battered shoulders of rural roads required constant maintenance. In 2010 SEALS Group of Queensland was engaged to treat the shoulders with PolyCom Stabilising Aid to better withstand the wet season from November onward.
The level of the shoulder was raised using only the poor quality in-situ material. No material needed to be sourced and trucked in.
PolyCom Stabilising Aid was grader mixed using PolyCom treated water and compacted with a multi.
After nine weeks, 24 hour haul traffic and over 800mm of rain the shoulders are strong and tight and there is no degradation of the shoulder to seal interface.
Rural road shoulders are easily and economically maintained with PolyCom Stabilising Aid.
For more information about PolyCom Stabilising Aid contact Mark Holding telephone toll free 1800 790 907 or email mark.holding@earthcoprojects.com.au
*Copy supplied by PolyCom Stabilising Aid