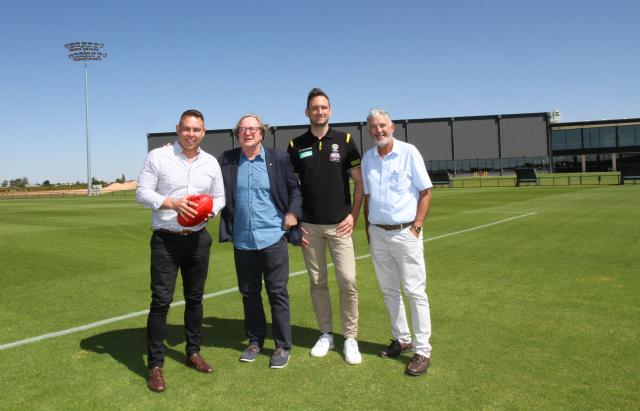 Former AFL coach, premiership player and Australian Football Hall of Fame Legend Kevin Sheedy has toured the Mildura Sporting Precinct (MSP) for the first time, describing the venue as 'quite amazing'.
The AFL great said the precinct compared impressively with other major regional sporting venues.
"I've been all around Victoria in the past two months nearly, and I'll be heading back to Echuca, I've been over to Gippsland, Ballarat and Bendigo, the whole lot, I travel extensively right throughout our regional areas and I think you've put down a huge footprint impressively when the AFL comes to have a look at this," Sheedy said.
The current Essendon Football Club board member said he was a big believer in bringing games to regional venues like the Mildura Sporting Precinct.
"In the years that I coached, we always came into the country and regional areas because we take the game to the people, and I think that's always been one of the aspects of pre-season competition," Sheedy said.
"I hope the AFL head honchos…look at what regional areas are doing to get clubs to the right areas, to develop the vision of places like Mildura."
Speaking just over a month ahead of the first Sunraysia Football Netball League game at the precinct on 30 April, Sheedy said the ground was equal to anywhere in terms of a venue for local football.
"I haven't seen anything like it anywhere to be honest, and I've been around Australia a lot, and I'm talking all states and codes, this is quite amazing," he said.
Mildura Mayor Liam Wood, who led the tour, said he was encouraged by Sheedy's impressions of the ground.
"This is a great step forward in our ongoing push to advocate for AFL games to be played at the precinct, hearing these types of compliments from one of the greatest players in the game, who has seen it all," Cr Wood said.
The Mayor said Sheedy was an influential figure who played a significant role in securing pre-season games at Red Cliffs' Quandong Park in 2006 and 2007.
"Kevin is obviously an iconic figure in the game, but he's demonstrated on numerous occasions his passion for both Indigenous and grassroots communities, and is an influencer at all levels, including government," he said.
Joining Sheedy on the tour was Aligned Leisure Chief Executive Officer Shane Dunne, who is no stranger to the precinct from its earliest stages, before the first sod was turned.
Aligned Leisure is a 100%-owned subsidiary company of the Richmond Football Club and already has a strong presence in the Sunraysia region as operator of Council's network of public swimming pools.
"We're building a strong platform of support for the precinct at the highest levels with both the Richmond and Essendon Football Clubs, which is amazing and will help us attract events and games of the highest calibre, which will ultimately benefit our broader community," Cr Wood said.
"It's also a nice tie-in when we look back at the last time AFL games were played in our region, between the Bombers and the Tigers."
The Mayor said the precinct had already secured a Bendigo Pioneers game in June this year and Council would continue to pursue every opportunity to bring state and national events to Mildura.
"With Stage 2 well under way, we can now see light at the end of the tunnel in terms of a completed precinct, including additional indoor and outdoor seating, external shade improvements, more parking, including parking around the ground, and perimeter fencing," he said.
"This will realise the full potential of this project, which has already delivered on so many of its promises in terms of attracting large-scale events, such as our partnership with the Bendigo Spirit and the upcoming Pioneers game, despite only being partly completed.
"Importantly, Stage 1 is delivering in terms of allowing the numerous sporting groups that now call the precinct home to grow and expand.
"Examples include volleyball, which has been able to re-introduce a dedicated women's league since relocating to the precinct, and an additional men's grade. Badminton is also another group which has enjoyed strong growth since relocating there.
"Stage 2 will enable us to continue delivering on everything this landmark facility promised."
The historic first official football game to be played at the precinct will be the South Mildura Sporting Club's first home game on 30 April.