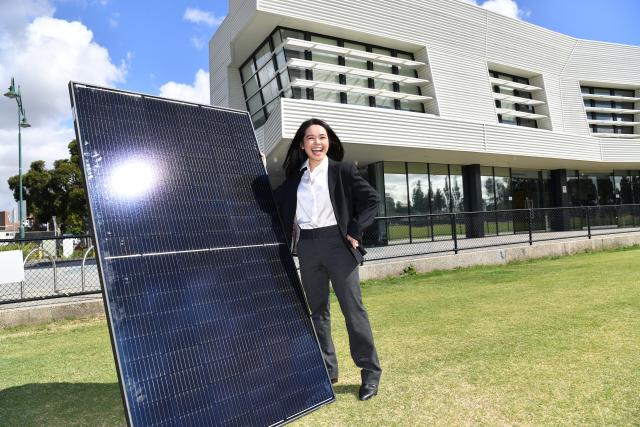 Renewable energy is on the move, and local councils are increasingly a key part of this.
Indeed, they can be even bigger players in the years ahead.
By way of background, the role of renewable energy was recently emphasised by Professor Brian Schmidt, the ANU vice-chancellor. He actively champions the role of science and technology, and being a Nobel Prize winner, he has the credibility and insights that carry weight.
Last month at an ANU forum he said that "Australia should probably have the most resources in the world in terms of renewable energy. So when the transition occurs, we are the country that is going to benefit…but we are currently laggards – we need to invest in technical solutions".
His views are presumably based around our solar and wind energy resources, and not so much geothermal, biomass or hydro-power which are second-order sources. And his comment about us being laggards in terms of technical solutions is interesting, as is the reference to the 'transition', which presumably means the next 25 years as the bulk of nations move to being carbon neutral.
Well I guess we are laggards. Denmark, China, the USA, Germany and Spain are the world-leaders in terms of installed wind energy and they have invested in technical solutions and the manufacture of their own turbines.
Similarly, in solar energy, the leaders are all overseas – namely China, the USA, India, Japan – and Vietnam of all places mainly due to technology and financing deals with the Chinese.
Options
The usual approach by western nations to achieve prominent positions in any industry is to construct the right policy settings, and provide government funding to cover public benefits. But in Australia's case, the latest OECD data shows that we have now fallen out of the top 20 OECD nations, with research and development at 1.80 per cent of GDP. With significant government debt for the foreseeable future, any improvement is unlikely.
If Australia is to develop a prominent position in renewable energy industry, we need to forget about public R&D providing the impetus. The better option to my mind is to therefore identify the market opportunities and the stakeholders, and work back from there.
To explain, the big bucks are in two streams:
1- batteries, wind turbines, electric cars, solar panels, and the associated electronics and monitoring/measurement equipment.
2- the metals required for the above i.e. lithium, cobalt, copper, nickel and aluminium.
The opportunity is to thus build a business model – unique to Australia – that captures both these two streams together, is not dependent on large-scale government support, and can tap into the R&D wherever it might be.
Such a business model would be place-based, specifically a world-scale precinct where the key metals would be processed and/or manufactured into end-products for local and overseas markets.
Where would the precincts be?
The precincts would differ according to the main end-products.
One major profit centre is batteries. They require lithium (world-class deposits are around Greenbushes WA, the Pilbara and Darwin) as well as cobalt (Broken Hill NSW, and Murrin Murrin – north of Kalgoorlie).
A precinct in Bunbury or Fremantle would make sense in terms of transport infrastructure and labour pools. Kalgoorlie might also feature in this supply chain. And Broken Hill could conceivably be the home of a separate, competing precinct?
A second major profit centre are wind turbines. The problem is that the leading turbine manufacturers want to protect their technologies, and thus wary of joint ventures.
A prime example is Vestas, the Danish-based world-leader – but they might be amenable to an Aussie manufacturing partner if a win-win scenario was developed. Perhaps a deal to supply scores of wind projects to nations in the Pacific and Indian oceans, facilitated by an Australia-EC aid project?
In this context, a precinct in the Latrobe Valley would have competitive advantages viz. supply of skilled labour, manufacturing track record, proximity to wind energy sites in Bass Strait.
A third major profit centre are electric cars. Australia can surely be competitive in niche areas of car manufacture. Adelaide and Geelong have the facilities. Robotic manufacturing can keep labour costs down, and we would be supplying competitively-priced materials – lithium/cobalt batteries, aluminium, glass.
Making it happen
Well the Federal Government cannot lead on this, simply because it vacated this role a couple of decades ago, and the expertise has now gone.
In any case it needs to be the private sector, specifically the superfunds and institutional investors who manage the billions of dollars looking for a profitable home.
Would they be capable of leading and coordinating the other stakeholders – the science community, the unions, prospective international partners, and the three levels of government? This is the crux of the matter because coordination failure is the bane of 'nation building' projects.
Perhaps well-regarded billionaires like Twiggy Forrest and Mike Cannon-Brookes could help generate rarely-seen collaboration between the key stakeholders, and open doors to international partners.
Who pays?
Large-scale industrial projects usually have a mix of public and private benefits, and the former must be covered if they're to be viable. This means that federal and state governments have a funding role, which would vary from project to project.
One approach might be for the feds and states to invite funding submissions from project proponents once most of the dimensions are in place, and for Treasury or similar to then assess the public interest and the appropriate government contribution. A Federal ICAC might look on.
Role of councils
I've mentioned above some possible locations for precincts. If they involve your council you might consider championing the idea. Someone might know Twiggy, or a board member of a super fund. It costs nothing to enquire. And if you like, I can develop this article into a scoping study.
Kangaroo Island weighed down by ferry costs
The Cockatoo Network has members around Australia and overseas, and we've been fielding ongoing complaints about the eye-watering cost of taking a car on the ferry to Kangaroo Island SA.
We've done some comparisons of standard season fares, and the results are as follows:
Kangaroo Island (20km): Return adult $98; return vehicle $392.
Fraser Island Qld (16km) $65; $130.
Rottnest Island WA (23km) $27 (return adult).
Magnetic Island Qld (15km): $30; $216.
Tiwi Islands NT (80km): $120 (return adult).
All of the above ferry services, except for the Magnetic Island service, are operated by SeaLink (Kelsian Group).
It shows that the cost of taking a car to KI is 300 per cent and 180 per cent higher than to Fraser and Magnetic Islands respectively. These are huge price differentials.
To be fair, ferry costs for KI residents were reduced last December when the SA Government announced a long-term contract renewal for Sealink.
But non-residents will continue to face these steep charges, and KI's tourism operators will continue to lose business to other tourism destinations.
This is all disappointing because the major fires on KI raised huge awareness and empathy around Australia, with a visit to KI being placed on many people's bucket list.