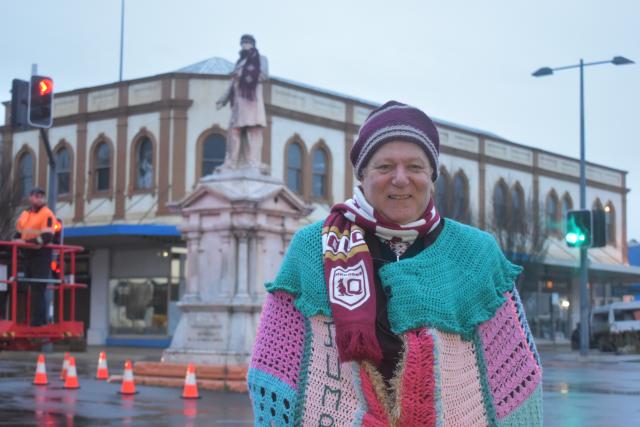 When Jumpers and Jazz in July began in 2004 in Warwick on Queensland's Southern Downs the local community, along with the rest of the world, got its first taste of a new phenomenon called yarn bombing.
Crafters, looking to break free from the conventional ways of applying their craft, started activating hard, utilitarian elements of the urban landscape with cosy coverings made of wool. Door knobs, security fences, safety bollards and even an army tank were some of the early manifestations of this new "craft" movement.
The team working on Jumpers and Jazz in July all those years ago employed some of the subversive tactics of the yarnbombing movement to promote the burgeoning winter festival. Volunteers hung knitted jumpers on trees on Albion Street before sunrise, much to the surprise of the media and community.
Looking for other ways to get people excited about the yarnbombing festival, the idea to dress the Thomas Byrnes monument in winter woollies was born. The first year the monument was adorned was 2006 and each subsequent year a fresh matching scarf and beanie set has been made and installed, still taking place early in the morning under the watchful eye of Warwick Art Gallery Director Karina Devine.
"Though quite a complicated process involving permissions and assistance from various contractors, it is a very important part of the Jumpers and Jazz in July festival," says Ms Devine.
"The festival totally transforms the region into a cultural tourism destination and the dressing of the Byrnes monument announces to everyone that the festival is about to begin and all over the region artwork appears to delight us all."
The Queensland QRL Maroons team visit to Warwick on the 5 – 6 July provided inspiration for the outfit created by local knitter Dawn Booth for the monument this year. The maroon scarf and beanie was installed early on Friday the 1 July in readiness for the Maroons visit. Southern Downs Regional Council Mayor Vic Pennisi was enthusiastic about assisting with the install.
"The iconic Thomas Byrnes monument has over the years become a much loved and integral part in signaling the start of Queensland's quirkiest winter festival, Jumpers and Jazz in July," Mayor Pennisi said.
"Each year, volunteers conjure up an outfit befitting of the festival theme and Thomas proudly wears his beanie and scarf for all to appreciate and photograph.
"The 2022 festival theme is Ripple and with the mighty Queensland Maroons bringing their regional fan day to Warwick in July, it is only fitting that Mr Byrnes gets into the Maroons spirit as a proud Queenslander.
"The Queensland Rugby League Regional Fan Day might occur on a single date, but the ripples left in the community will endure well past the event.
"Ripples of pride in Queensland, the local community and our youth, share key synergies with the goals of the Jumpers and Jazz in July Festival. Who knew rugby league and yarnbombing had so much in common!"