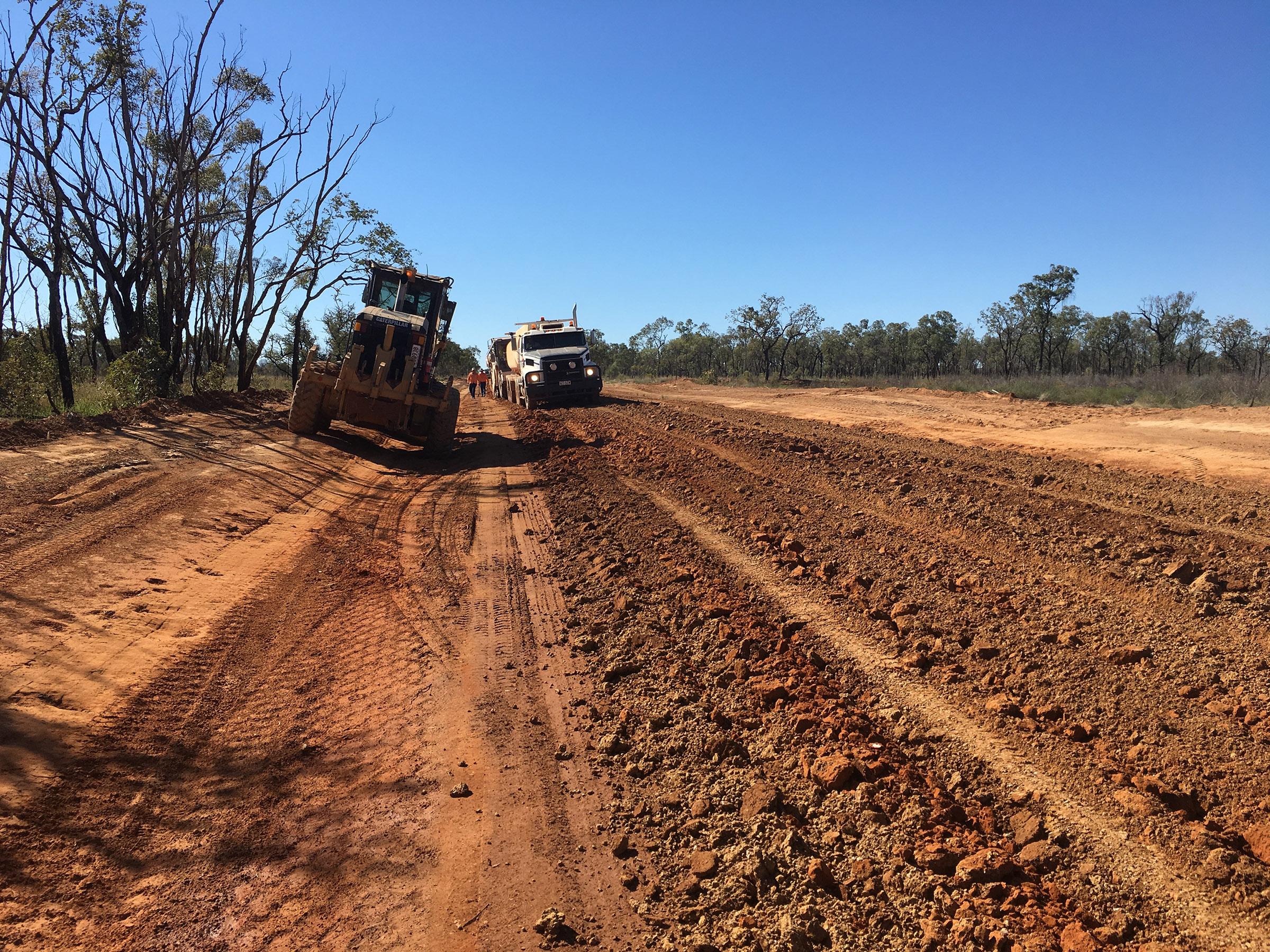 Isaac Regional Council has achieved success in road rehabilitation using an Australian made product on a road previously declared 'too hard'.
Covering approximately 58,000 sq km of fertile plains and rich soils, from coast to coalfields, Isaac Regional Council maintains thousands of kilometres of rural roads.
One project that provided a real challenge for Council was a 43km stretch of rural road, in very poor condition, known as Lou Lou Park Road. The road that primarily services the cattle industry has conditions ranging from sand to iron stone making a consistent approach very difficult.
According to Isaac Regional Council Manager Infrastructure (West), Pat Moore gravel re-sheeting and maintenance grading had been used on the road for the history of its existence. The varying geotechnical conditions and its comparative remoteness proved these methods ineffective.
"Research, investigation and trials over the past 18 months led to the discovery of PolyCom Stabilising Aid, an Australian-made soil stabiliser, used to strengthen almost any material commonly found in road construction and earthworks projects.
"The product is simple and has proven very effective in relation to improvements in pavement longevity on black soil, sand based formations and gravel."
Preparation works included reinstating formation shape, drainage and gravel capping approximately 70 per cent of the 43km.
Mr Moore said the success of this difficult project was dependant on, "a Council Construction Team with a positive work ethic combined with a determination to learn something new, produce a noteworthy product and achieve what was previously considered unachievable."
Shane Donovan, Operations Manager of SEALS Brisbane Pty Ltd subcontractor for the Lou Lou Park Road rehabilitation project said, "[Isaac Regional Council]… trialled 4km of PolyCom stabilisation in early 2016 in two locations, one with a red bull dusty sandy loam material and another in blacksoil, both with great results. They had an unusually wet dry-season and both roads continue to hold up well."
"Council wanted a product that could be re-activated and re-worked without the need for re-application each time maintenance was undertaken. PolyCom's proven performance with Council and the support provided by SEALS were also contributing factors…[in winning the contract]."
The project took three months to complete, costing $1.5 million and was jointly funded through the Queensland Government Transport Infrastructure Development Scheme (TIDS) and Isaac Regional Council.