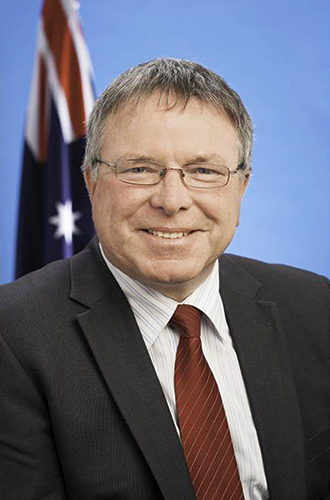 Northern Areas Council, is in South Australia's Southern Flinders Ranges, the traditional lands of the Ngadjuri and Nukunu People. We've been working to better acknowledge and respect the traditional owners, working in conjunction with our neighbours on key projects including NAIDOC celebrations lead by one of our local leaders, Spalding resident Nat Sommerville.
Our Council area is located largely on the former pastoral run of Bundaleer Station which was settled by the Herbert Hughes family, who were also key contributors in the settlement of what are now the townships of Gladstone and Laura.
Several of our towns have recently turned 150 or are very near that milestone; whilst some Australian icons began their time in this region such as RM Williams, famous Chocolatier Alfred Haigh, CJ Dennis, Farmers Union, and we're still home to the famous Golden North Ice Cream.
The picturesque Bundaleer picnic ground and the Maple and Pine Function centre within it is a favourite place of mine. This incredible community owned and operated facility was developed by local volunteers lead by Greg Boston and Mel Kitschke. It was recently opened by Premier Stephen Marshall, who described it as the state's best function centre North of Adelaide.
Contribute to your community
I have been a Councillor for about 16 or 17 years. I first served on the former Spalding District Council for two terms before the council amalgamations in 1997. I have been a Councillor on the Northern Areas Council for 11 years serving as Chairman for two years when first elected in 2010 and have been elected to lead the Council once again as Mayor in November 2020.
I guess like most people, when you stand for an elected position you hope you can make a difference and a positive contribution to the community in which you live.
Over the years I have worked in several areas mostly around agriculture. I live on our family farm at Andrews in the Mid North of South Australia. I started my working life in the shearing industry and understand that some people have to work very hard for their money, and Council has to be diligent in how we spend the community's money.
I've been a volunteer with the local Country Fire Service for many years and am currently a Deputy Group Officer with the Hallett CFS Group. I also enjoy attending cricket and football matches at the local level and in Adelaide from time to time.
Our challenges
We have an ageing workforce, which is a challenge when a lot of experienced people move in to retirement. Our local area is lacking public housing, which is important as people are looking to move to the regions, whilst we also need improvements in power and water augmentation to encourage regional development.
Council is currently working on facility upgrades across all our communities including pools, community buildings, town centres and main streets including the undergrounding of powerlines. We are working on an economic and population growth plan of which my colleagues, Cr Denise Higgins and Cr Leon Pollard are the key drivers.
Constraint has brought reward
We've had great success over the past decade, when due to financial constraints we undertook a major review into our finances and adopted a challenging but responsible long term financial plan. Some extremely hard work in the first two to three years by our staff lead by the former Chief Executive Officer and elected members, set a platform which has seen Council's debt ratio revert to 67 percent of annual revenue in the current budget, compared to almost 125 percent which was forecast in the former plan which we superseded in 2011.
In recent years we've seen significant benefits, through the installation of solar energy systems across the Council area, resulting in an annual reduction in energy costs of over $100,000. Some councils look to cut services to their rate payers as a means of keeping their finances in check, but we took a highly proactive measure and were able to find savings without detriment to our community.
This has been lead by our Manager of Corporate Services, David Rattley who has really gone above and beyond his normal line of work in overseeing our financial matters, but the results have been outstanding. At the end of the day people in the community pay rates and they expect services, our Council took a proactive approach and opted to look to find efficiencies rather than deny services to the community in the name of savings.
On a personal note
What I enjoy most about being a Councillor is listening to the community and helping to deliver outcomes for people. On the flip side, there is always a high level of scrutiny in local government particularly in rural areas as we are very much available to community members. However, we do appreciate this comes with the territory and it's part of our job and often people are just looking to be heard, which I can appreciate.
What do I hope to accomplish in the future? A Council delivering a high standard of services to the community in an equitable and economically sustainable manner.