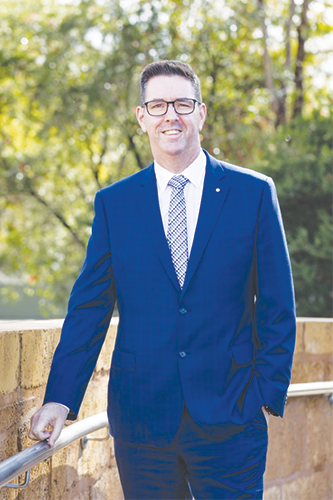 August was a month of transition for Local Government Professionals Australia. Having served on the board since 2016, I am proud and humbled to be appointed President for the coming year. I would like to acknowledge and thank the board for their efforts over the past year, particularly former President, Victoria MacKirdy, who has been a visible champion for gender equity in our sector, and who so ably led the organisation through the headwinds which challenged us all.
I come to the presidency with a strong passion for local government and those professionals who work in the sector. I look forward to being a strong and visible champion for local government professionals at the helm of our national body.
In October I was pleased to announce the appointment of senior property leader and diversity champion Catherine Carter as our new Chief Executive Officer. Catherine has a strong background and understanding of government, gained through experience as an industry leader, media commentator and ministerial staffer. Her highly-honed advocacy skills, strong association management skills, strategic thinking and large network will help us to expand our reach and influence at a mission-critical time for local government professionals across Australia.
Recently Catherine and I had an important opportunity to engage directly with the Federal Government in a meeting with Federal Assistant Minister for Local Government Kevin Hogan, where we discussed issues including the Federal Government's economic stimulus spending, the work being done by Infrastructure Australia to support growth in regional centres, digitisation and sustainability, and future workforce planning.
The Minister accepted an invitation to speak at the first 2022 'Canberra, Behind-the-Scenes' event in the new year. The Behind-the-Scenes program involves a series of meetings and briefings with the officials behind the policies and budgets that directly affect your councils and communities. Details and dates will be announced soon.
I'm excited to confirm the return of the Australasian Management Challenge in 2022. It is our hope that this Management Challenge series will be held in-person, rather than virtually, so teams get the very best from a fresh set of challenges around team building, learning and networking using real local government themes. I know from personal experience – albeit 26 years ago when I left the Army and embarked on my career in local government – how valuable the experience can be. I would encourage all CEOs to begin thinking about the team members they would like to enrol in the 2022 program.
This November is awards season, with the Local Government Professionals National Federation Awards celebrating outstanding achievement in local government. The Federation Awards recognise and honour local government professionals for their efforts in making a difference in their communities, showcasing the innovative solutions that demonstrate leading practices, delivering quality services and better outcomes for communities. The awards will be presented online in late November, with details to be confirmed shortly.
In closing, local government plays a critical role in bringing communities together and producing local solutions to local problems.
We all share the great honour of serving the community at the level of government closest to them. I would like to take this opportunity to acknowledge the hard work and resilience of local government professionals over the past year and wish you every success continuing to serve and build better communities in 2022.