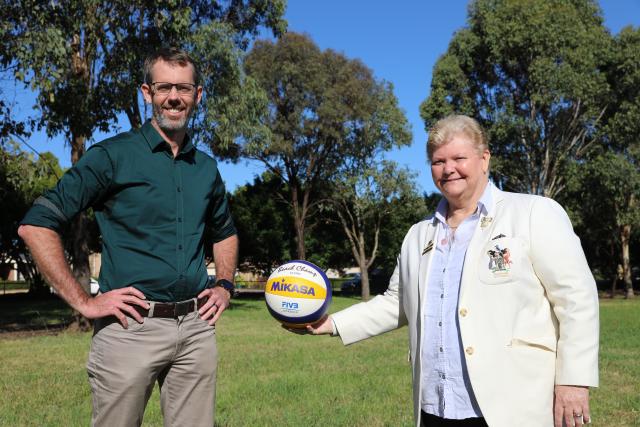 Blacktown City Council and Volleyball NSW have announced a new beach volleyball complex to built at Glenwood Reserve, Glenwood.
Council will deliver the facility after successfully receiving funding as part of the NSW Office of Sport's Greater Cities Sport Facility Fund.
Blacktown City Mayor Tony Bleasdale OAM, said: "Our diverse community is keen to participate in a wider range of community sport and recreation opportunities as possible – there is absolutely no reason why beach volleyball should be restricted to the coast."
The grant, worth $999,999, will allow Council to deliver the first multi-court beach volleyball facility in Western Sydney and provide increased opportunities for competition and community participation.
Councillor Julie Griffiths recently met with Volleyball NSW CEO Baz Wedmaier to announce the exciting project.
"Volleyball NSW is extremely excited to have a dedicated facility in Western Sydney to grow the sport at all levels," Mr Wedmaier said.
"All of us at Volleyball NSW are looking forward to working with Blacktown City Council on this unique project and activating the venue with the community once built.
"Who knows, the next Beach Volleyball Olympian may come from Glenwood."
Mr Wedmaier presented Council with a beach volleyball, previously used in competition.
"I thank Volleyball NSW for this gift and their support of the project," Mr Bleasdale said.
"It is terrific to be able to secure this funding and to deliver this exciting new project with our community and Volleyball NSW.
"Council looks forward to working with Volleyball NSW as the project progresses and into the future."
Planning is already underway with community consultation to follow. The project is expected to be complete by mid to late 2023 pending weather.